Extra-hard materials
Taking into account the hardness of these materials, the removal of material can be done only using tools out of diamond or requiring a cutting fluid containing diamond powder.
These materials are thus very hard, resistant to wear and have a very good chemical inertia.
This denomination includes sapphire corundum, synthetic rubies, hard ceramics and metallic carbides.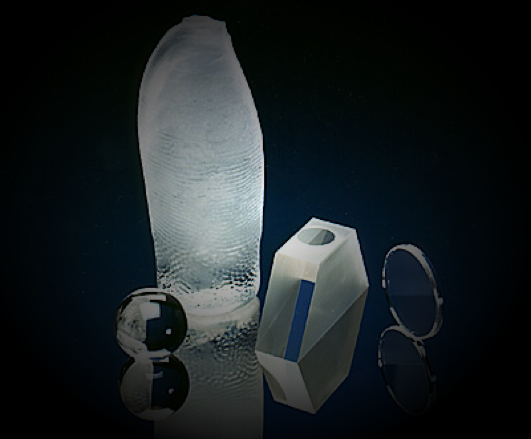 Synthetic Sapphire
Chemically pure aluminum oxide (Al2O3) forms the basis of corundum or synthetic sapphire. It is obtained from a salt, alum ammonia, which after a transformation process, becomes a light and impalpable powder, composed of very fine crystals of the order of one micron.
Originally developed (1902) by a French chemist, synthesis is done through the "Verneuil process" that produces a boule (a mass of alumina with the same physical and chemical characteristics as corundum) with a maximum size of 70 to 75 mm in diameter and 300 to 400 mm in length, these values are not cumulative.
If required, we could have colored balls just by adding to the alumina powder a metal oxide. The chromium gives the shade of ruby, iron and titanium that of yellow sapphire. Chromium gives the color of the ruby, iron and titanium that of yellow sapphire.
Download characteristics
The single crystal sapphire presents a unique combination of properties:
High mechanical strength
High thermal stability
Very good heat transfer
High optical transmission in the ultraviolet, visible and infrared
Very high resistance to abrasion
Chemical resistance
Zero porosity
Very high electrical insulation
Highest hardness after diamond
Ceramics
The ceramic oxide products are manufactured starting from pure metallic oxides, by using the ceramic methods. The most common oxides are: alumina oxide, zirconium oxide, magnesium oxide, etc… They all have the same characteristic of a very high melting point, higher than 2000°C.
Oxides in powder form, without permanent or liquid binder are prepared by casting, injection molding, dry pressing or extrusion and then sintered ,with or without isostatic pressure, at high temperature from 1600°C to 1900°C.
Apart from their high refractory capacity, ceramic oxides have numerous properties, including:
Resistance to chemical attack
High electrical resistance
Low dielectric loss
High mechanical strength
High resistance to abrasion
Some materials cannot be machined by traditional tools